David Bowie's death came as a huge shock.
Two days before, he had released
Blackstar
, on his birthday no less; a characteristically charming and cheeky stunt that he had pulled two years earlier for his return to music after a decade away with
The Next Day
.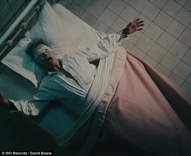 It landed somewhat as a surprise, as I had only just caught up with the release of the singles Blackstar and Lazarus. But even from the first listen, I was bowled over. I revelled in that rare feeling of listening to a new album and realising that, while you like it from a surface perspective now, you sense the delicate complexity that will make it a piece you will enjoy to greater and greater depth over many years.
I raved, I recommended, I rejoiced.
Bowie as good as he had ever been was a wonderful thing. I even wondered if, when you factor in his maturity and greater perspective on life, as well as his having finally embraced the jazz element of his music that had been present since the early 1970s, it might indeed be his best album.
And then he died.
I never met David Bowie. I never even got the chance to see him in concert. But when I first heard my mother's vinyl copy of
Scary Monsters (And Super Creeps)
on the stereo, it gave me something I would treasure and guard all my life. And I am not exaggerating when I say that his death broke my heart.
Let me back up a little.
Imagine yourself nine years old, you and your mother having left the family home to live in a cramped flat with her dying mother, taunted by all those kids at yet another new school, trying to comprehend city life for the first time.
I don't know if you are aware of the song, but It's No Game (Part 1), the opening track on
Scary Monsters (and Super Creeps)
, is
quite something
.
That angry howl tugged me across the vinyl and into another universe. Suddenly, I was free from the weight of life, joining the Starman waiting in the sky.
And there the journey began.
Changesonebowie
, with it's little black and whites photos of every Bowie album released on RCA on the inner sleeve, led me into a world of beautiful, angry, melancholic, upbeat and magnificent music, coupled with insightful, witty, though-provoking, romantic and conspiratorial lyrics.
Bowie understood. He knew what it meant to be a lonely kid in a lonely place, hoping to be transported to somewhere you could express yourself just as you are, away from all the…what would we say now? Haters? I suppose so. It is a torch that's been carried by many since – Madonna and Lady Gaga to name just two – but he was the one to carry it the highest and the proudest.
After some questionable behaviour in the 70s and some musical missteps in the 80s, Bowie eventually morphed into something like the wise owl of the musical world, creating challenging and ever-evolving music while exploring new technologies and new ways of communicating with his fans. He even dabbled in finance and continued to fascinate in interviews, where his maturity, wit and new-found confidence shined.
By the time he semi-retired in the early 2000s, he was like a father-figure to me. When I was doubting myself and my abilities, I would think of how he kept on creating offbeat and unconventional music and art that still inspired, no matter what. When I wondered about my identity and who I was as a person, I thought of all those times he had worn clothes, spoke and displayed himself exactly as he wanted, sticking two fingers up to anyone who would challenge him. More than that, he was kind and funny.
And then he died.
I wasn't ready for it, in the slightest. It hurt me more than the loss of my grandparents. I assumed, naively, that I would one day fulfil my dream of seeing him play live, that we would have him with me for many years to come.
It was not to be.
Confused and desperately sad, I scoured the internet for anything I could read about him.
The Guardian
published a great set of articles about him, among which was a piece on the "
final mysteries of David Bowie's Blackstar
".
In it, Jude Rogers talked about how the song Blackstar "begins in 'the villa of Ormen'".
She continues: "This is also the name of a tumblr set up on 20 November 2015, a day after the song's video was released, which last featured a post on 10 December. This timescale suggests that it could have been created by fans, were it not for some posts that hint towards images from the Lazarus video, released six weeks later: a woman emerging from the right-hand side of a wardrobe (Bowie ends the Lazarus video going back into it on the left, like he's entering a coffin), plus a skull on a desk."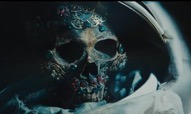 Intrigued, I followed the link (the tumblr has recently been removed, following
changes in the way Tumblr deals with content
), and was brought into an entirely new world. The images on The Villa of Ormen were not always new to me, either literally or in concept, but the way of putting them together was, and I saw something very interesting.
I was, at the time, writing the first draft of my debut novel
Escape
. However, I had reached something of an impasse.
One of the early ideas I had was that John Hunter, the main character, would gives clues to his past, his current mental state and even his future through his dreams and nightmares. While the first dream in the book had come to me easily, I was struggling with the rest.
And that is when Tumblr intervened. I quickly set up
my own
and started scouring the site for images to repost from many, many wonderful tumblrs that, much like Bowie himself, weren't afraid to explore their identify and personal expression, wherever that would take them.
I didn't make the connection with the dream sequences in
Escape
immediately, but after a few weeks, it occurred to me that, if I lined up the images and saw them as a flow, they could form the basis of what John Hunter sees in his dreams.
Soon I had gathered together enough images to form the background to
Dreams One
,
Two
,
Three and Four
, and you can find them
here
(NOTE: The sequences start in reverse order, so to follow the dreams from the books you have to scroll down to the bottom first).
As I mentioned, Tumblr has sadly been much reduced by its
change in content policy
and I don't think it would be possible to do the same thing now,. However, there was a moment in time when freedom of expression and inspiration could come without limits, and I want to thank each and every one of the people behind those Tumblrs. You helped lift my book to another place.
© L. A. Davenport 2017-2021.
Escape to Dream | Pushing the Wave